Evan Petzold

| Detroit Free Press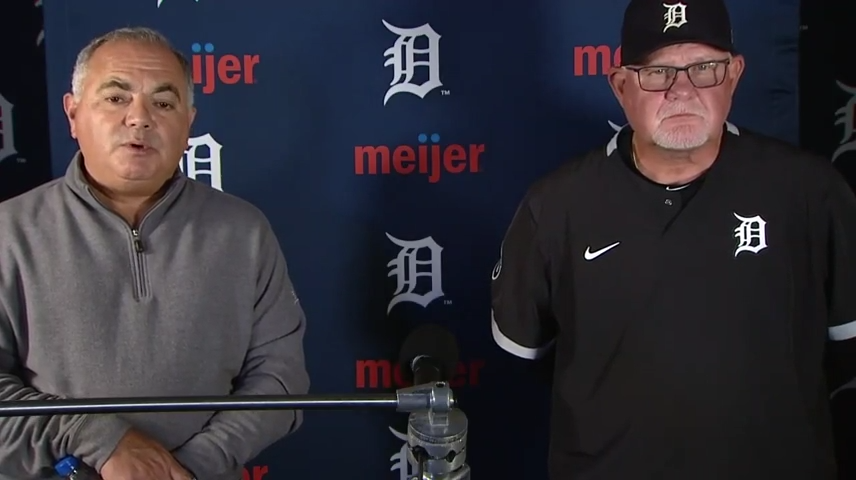 Show Caption
Hide Caption
Why Detroit Tigers' Ron Gardenhire is retiring immediately
Detroit Tigers GM Al Avila and manager Ron Gardenhire met with reporters Saturday, Sept. 19, 2020 to announce Gardenhire's immediate retirement.
Ilitch Holdings, Inc., is going through the process of furloughing and eliminating positions on the business operations sides of the Detroit Tigers, Detroit Red Wings and its other entertainment venues, according to an email sent to employees and obtained by the Free Press on Wednesday.
The cost-cutting measures are a result of the COVID-19 pandemic.
The company is notifying employees Wednesday, according to the email from Chris Granger, Ilitch Holdings' Group President of Sports and Entertainment. The total number of furloughs and layoffs to employees wasn't immediately clear.
Furloughed employees will still receive full benefits, including medical insurance.
The cuts only affect the business side of Ilitch's sports and entertainment empire, which includes venues such as Little Caesars Arena, Comerica Park and the Fox Theatre. The baseball and hockey operations side of the Tigers and Red Wings will not be impacted by Wednesday's moves, a person with direct knowledge of the situation told the Free Press.
"These actions, which are being implemented throughout the day today, are incredibly hard, especially for those who regrettably will be leaving us," Granger said in the email. "Each of you will be contacted today and notified whether or not any changes are being made to your employment. For those of you impacted, details regarding any furloughs or layoffs will be shared with you."
Over the past six months, Ilitch Holdings has canceled over 200 sporting events and concerts in its venues. The Tigers played 31 games at Comerica Park in the shortened season without fans.
Granger said he does not know when Ilitch Holdings' venues will reopen, and he isn't sure when spectators — even in a limited capacity — will be able to return to Little Caesars Arena, Comerica Park and the Fox Theatre. Once venues reopen, Granger said Ilitch Holdings will be "ramping up our business operations," but he did not clarify if whether employees impacted by Wednesday's layoffs will be eligible to return.
"While our moves today are difficult, I also want to let you know that we continue planning for our future," Granger said. "We are preparing for when our venues will be able to safely welcome guests, we are aggressively booking events into the future, and we are continuing to strategically invest in our teams, including in player development, analytics, scouting, and sports science."
The move from Ilitch Holdings comes as furloughs and layoffs continue to rise in the entertainment business. On Tuesday, The Walt Disney Co. said it plans to eliminate the positions of 28,000 workers at theme parks in California and Florida. Those cuts range from salaried employees to hourly workers, but two-thirds of the layoffs have been handed to part-time workers.
On March 13, Ilitch Holdings put together a $1 million fund to cover one month of wages for part-time employees for games, concerts and events canceled or postponed because of the pandemic. The fund covered games that were not played by the Pistons and Red Wings at Little Caesars Arena and the Tigers in spring training at Publix Field at Joker Marchant Stadium in Lakeland, Florida.
Four days later, the Tigers made a $1 million donation in addition to the Ilitch Holdings fund to stadium employees at Comerica Park. The Tigers played their home opener July 27 with only a few stadium employees.
"In this time of uncertainty, we are committed to standing with and supporting our dedicated and hardworking colleagues and providing them and their families the reassurance they deserve," Ilitch Holdings' statement from March reads.
"Our sincere hope is that this provides comfort to our colleagues in this difficult time. When events resume, we look forward to our colleagues being safely back to work as normal."
The Red Wings are expected to begin their season Dec. 1 with a full 82-game schedule. They have not played since the NHL suspended games in mid-March. While the NBA has a tentative Dec. 1 start date for the 2020-21 season, commissioner Adam Silver said last week it's unlikely the 82-game schedule will begin until 2021.
The Tigers play their first Grapefruit League spring training game at Joker Marchant Stadium on Feb. 28. Opening Day is scheduled for April 1 at Comerica Park against the Cleveland Indians.
Evan Petzold is a sports reporting intern at the Detroit Free Press. Contact him at epetzold@freepress.com or follow him on Twitter @EvanPetzold. The Free Press has started a new digital subscription model. Here's how you can gain access to our most exclusive Detroit Tigers content.