With only two games remaining, the Detroit Red Wings are pivoting from playing games to beginning their plan for next season. Between an expansion draft, the NHL draft, and then free agency, Steve Yzerman will have a lot of cap room at his disposal and the insights to add to what he's already set in motion.
Though the Red Wings are still some time from escaping the rebuild, here are some of the moves that have helped put things in motion.
Moritz Seider Gets a Full Season in the SHL
This may be the biggest win for the Red Wings. Seider dominated the SHL, and it doesn't seem like a week has gone by without seeing one of his many highlights. Whether it's lighting up an opposing player with a bone-rattling hit, or scoring a big goal, Seider has exceeded even the wildest dreams of any fan who was clamoring for one of the forwards still available during the 2019 NHL Draft.
The invaluable experience of playing in a "men's league," which has the added bonus of seeing Seider's club advance to the SHL Final (though they're currently down 2-0), only puts Seider's trip to the NHL on a much faster track. What was one believed to be a possibility of breaking camp with Detroit during the 2021-22 season, it now feels like a sure thing.
Vrana Proves to be More than Expected
Four goals in a game. Seven points in nine. And with a team that isn't loaded with talent like his previous. Nevermind that Yzerman pulled a first and second round pick from Washington along with Richard Panik. Jakub Vrana appeared to try and equalize the return for  Anthony Mantha, and provide a scoring punch that would hopefully produce what Mantha was supposed to.
He has. And the deal continues to be sweeter with every game he scores a highlight reel goal, or uses his speed to turn nothing into something. Yzerman pulled a rabbit out of his hat again, and now it becomes interesting to see what he could do next.
Will he sign him for another season? Maybe a longer term extension. Trying to sell high? Regardless of what happens (I'm hoping to see him back, as Alex sees him leading the team in scoring next season), the Red Wings are sitting prettier with Vrana in the lineup.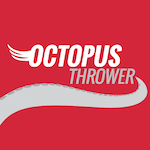 Want your voice heard? Join the Octopus Thrower team!
Raise your hand if you had Erne scoring more than ten goals this season. Erne we
nt on a tear where it felt like he could score a goal on virtually any shift. Yzerman snagged him for a 2020 4th round pick, which provided some bottom sixth depth. Last season was a statistical shoulder shrug, but what a difference one season makes.
As Yzerman adds more talent, Erne could be one of the unsung heroes in the mold of a Kirk Maltby, Kris Draper, or Darren McCarty as the Wings get out of the rebuild and into more meaningful games.
Thomas Greiss Might Turn out To be a Major Bargain
It didn't start out as anyone imagined but in his last ten starts, Greiss has been a revelation. After nabbing first star of the week with back to back shutouts, Going back to April 1, which spans 11 contests, Greiss has posted a .947 save percentage, turning away 324 shots out of a possible 342.
Of those contests, Greiss faced playoff teams in Tampa Bay, Florida, Carolina and Nashville and teams knocking on the door in Chicago, and Dallas. A team weakened by injuries, Greiss managed to stand on his head, and provide stability and an outstanding tandem should the Red Wings re-sign Jonathan Bernier.