Detroit Red Wings star defenseman Moritz Seider is ranked as the league's eleventh best defender on NHL Network's latest list.
Seider, 21, is coming off an impressive rookie campaign and is already being recognized as one of the NHL's top defenders. Seider won the Calder Trophy, awarded to the league's top rookie for his stellar play last season.
The rugged yet skillful defenseman appeared in all 82 of Detroit's games last season, accumulating 50 points, including seven goals. The former sixth overall pick from the 2019 NHL, Entry Level Draft proved to be just as advertised at the NHL level.
Moritz Seider will be a force on the Detroit Red Wings' blueline for years to come.
Detroit Red Wings fans caught a glimpse of Seider back in 2019-20 during his time with the Grand Rapid Griffins. During his first season with the Red Wings organization, Seider totaled two goals and 22 points over 49 games in the American Hockey League (AHL).
Following that, due to COVID-19, Seider was forced to play 2020-21 with Rogle BK Angelholm of the Swedish Elite League (SEL). There he'd put up 28 points in 41 games. Following his solid season in the SEL, he was awarded the league's top defenseman.
Finally arriving in Detroit last season, Red Wings fans saw firsthand the makings of a future superstar. Seider often flashed the perfect blend of power and skill. His physical presence on Detroit's blueline quickly became evident, as did his mobility and offensive capabilities.
The most impressive thing I noticed last season was how calm Seider was under pressure with the puck on his stick. How many times did someone take a run at the rookie defender moments after he made a defensive zone exit pass? Or immediately following a move at center ice, the would-be checker found themselves on their back, dusting snow off themselves? Steve Yzerman and the Detroit Red Wings found themselves a wrecking ball. I can't help but get excited thinking about what Seider will become once he fills out and puts on more muscle through his mid-20s.
It's hard to debate any of the defensemen NHL Network has ranked higher than Seider at this point, but to say he's the 11th best defender in the league after just one season is a massive compliment after the same network failed to rank Dylan Larkin as one of the top 25 centers or Tyler Bertuzzi in the winger category.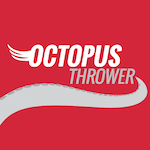 Want your voice heard? Join the Octopus Thrower team!
In the NHL Network's eyes, Seider is better today than the likes of Quinn Hughes, Alex Pietrangelo, Aaron Ekblad, Morgan Reilly, Shea Theodore, and Drew Doughty. That is some elite company, and I expect Seider to launch himself well into the top 10 on the same list a year from now.