Former Detroit Red Wings forward Evgeny Svechnikov is getting another opportunity to stick at the NHL level. This time it's with the San Jose Sharks.
The Sharks signed former Red Wings forward Svechnikov to a one-year, two-way deal worth $750,000. That money decreases to $350,000 if he is assigned to the Sharks AHL affiliate San Jose Barracuda.
Svechnikov, 25, played in Winnipeg last season and recorded personal NHL bests across the board. He scored seven goals and totaled 19 points over 72 games. That production was not even to garner an extension. The Jets did not even extend a qualifying offer this past July, making him a free agent.
Before landing in Winnipeg, the Detroit Red Wings gave Svechnikov, who they selected 19th overall in the 2015 NHL Entry Level Draft, every opportunity to remain with the organization. Unfortunately, things didn't work out, and Svechnikov's development was stalled due to injuries.
Svechnikov flashed some offensive skills during his rookie season with Grand Rapids Griffins back in 2016-17, scoring 20 goals totaling 51 points over 74 games.
Former Detroit Red Wings forward Evgeny Svechnikov gains another chance to earn a role at the NHL level.
That production would be followed up by a mediocre second season where Svechnikov only found the back of the net seven times, totaling a mere 23 points in 57 contests in Grand Rapids. He'd miss the entire next season with a knee injury. Following the injury, the Detroit Red Wings hoped he regain the same form they saw in his rookie season, but that failed to be the case.
Svechnikov followed that injury with an eleven-goal season, totaling 25 points over 51 games with the Griffins.
During this time, Svechnikov had a cup of coffee with the Detroit Red Wings over four separate seasons. Combined, the once highly-touted prospect totaled five goals and 12 points in a Red Wings uniform.
Svechnikov is the older brother of Carolina Hurricanes' superstar, Andrei. Andrei has scored 89 goals and totaled 209 points in 283 NHL games. A far cry from Evgeny's 12 and 31 over 113 games. Svechnikov will add some competition to San Jose's third line throughout training camp.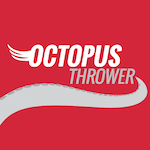 Want your voice heard? Join the Octopus Thrower team!
Will San Jose be the last call for Evgeny Svechnikov? Only time will tell, but hopefully, the third time's a charm for his sake.