As the Detroit Red Wings are amid their 2022 preseason schedule, all eyes tend to be on Elmer Soderblom, Jonatan Berggren, and Filip Zadina but don't forget about 22-year-old Joe Veleno.
Joe Veleno is someone who can get lost in the bottom six shuffle at times but has a real opportunity over the next week to skate his way onto the Detroit Red Wings opening night roster.
The Detroit Red Wings added a plethora of talent via free agency this offseason, adding much-needed competition during training camp and the preseason. The additions of David Perron, Andrew Copp, and Dominik Kubalik will help bolster Detroit's depth scoring behind Dylan Larkin, Lucas Raymond, Tyler Bertuzzi, and Jakub Vrana.
So when you look at Detroit's potential roster, they've added a forward line through free agency, meaning there will be a few 'regular' faces that won't make the squad on opening day.
Don't forget about Detroit Red Wings forward Joe Veleno.
If Joe Veleno makes the Detroit Red Wings roster, it will be as a fourth-line winger. Barring a string of injuries to close out the preseason schedule, Detroit has an overload of forwards hoping to earn a spot on the fourth line. Some other names to keep tabs on over the final four preseason games are Elmer Soderblom, Jonathan Berggren, Givani Smith, Oskar Sundqvist, Adam Erne, and Taro Hirose.
Of that group of forwards, the Detroit Red Wings will need to fill two starting spots on the fourth line, along with a couple of reserve players that will be healthy scratches come gameday.
Last season primarily due to injuries, Veleno appeared in 66 games, with Detroit recording eight goals and seven assists, totaling 15 points. Veleno appeared in just 11 games with Grand Rapids last year, performing at nearly a point per game clip, recording six goals and ten points.
Recently Veleno mentioned that he made a conscious effort to lose some weight to regain some speed heading into the 2022-23 season.
"I think the game now has just gotten a lot faster," Veleno said. "I thought I was a little bit too heavy last year. I feel really good at the weight I'm at now. You got to be able to skate and make plays at a high level. Just working on that over the summer helped a lot."
After dropping nearly ten pounds, Veleno is eyeing a final roster spot with Detroit.
"I thought it affected a bit of my speed," Veleno said. "I was still pretty fast, but I just thought it was some weight that I didn't really need."
Red Wings forward Robby Fabbri is expected to be sidelined well into December while he recovers from a knee injury, which leaves an extra roster spot open. Whether it is Michael Rasmussen or Pius Suter centering the fourth line is yet to be determined. As of now, it appears as though Rasmussen will center the third group and is expected to be flanked by Zadina and Kubalik.
That leaves Suter anchoring the fourth line. How head coach Derek Lalonde will want his fourth line to look has yet to be determined. If Jeff Blashill were still behind the bench calling the shots, it would be Erne and Sundqvist making up the fourth group mixing in Smith. That would be a solid defensive-minded energy-like unit.
Veleno mentioned that he'd prefer to play as a centerman. He wants to be not only a reliable two-way center but also hopes to see his number called to help out on the power-play and penalty kill. The problem? He's behind the aforementioned Rasmussen and Suter.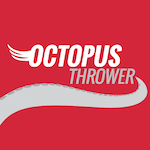 Want your voice heard? Join the Octopus Thrower team!
If coach Lalonde is looking for some offense from the fourth line having a line of Suter, Veleno, and either Soderblom or Berggren seems like a perfect combination. That leaves Erne and Sundqvist in the press box, with the others (Smith, Hirose, and either Berggren or Soderblom) reporting to Grand Rapids.