Detroit Red Wings fans, the hockey season is in full swing, and what a wickedly fun time that is for us all. Leaves cover our yards, creating a crunchy layer to backdrop our days. Spooky season is in full swing, with decorations adorning our houses and horror on our televisions. People are mainlining pumpkin spice, and our Detroit Red Wings highlighted a hockey-filled weekend with two wins. What a beautiful time of year.
Hockey is a rare event that is equal parts violence and grace. Dekes as smooth as ceramic flower pots and fists as leathery as cigar lounge chairs. Flowing hair like William Karlsson and toothless grins like Brent Burns. Hockey perfectly encapsulates the two sides of elegance and barbarity, making it such a wonderful sport.
Being a Detroit Red Wings hockey fan will be so much fun this year.
This team is going to blend and grow before our eyes. If you get a chance, head down to Little Caesars' arena and catch a game. For those who have gone, picture walking down the steep stairs to your seats for a game this year. A smell of beer, a slight stickiness on your shoe, and suddenly, the brightness of a pristine sheet of white ice glows before you.
Darts of red ping pong between the center ice line and the end boards. How can these players look simultaneously so fast and strong out there flying around that frozen dance floor? The glow of the ice beckons like a lighthouse at midnight on Cape Cod, and as fans, we should all follow it to shore at least once this year.
When not attending games in person, enjoy the best duo in the booth in all of hockey Ken Daniels and Mickey Redmond. Mickey Redmond's youthful exuberance that juts forth when a scrum or fight starts is contagious. "Here we go, boys, it's breaking out now" is a warm reminder of the past and a shot of adrenaline to fire you up in the present when the fists start flying.
During the ensuing commercial break, get off the couch and get yourself a "ginger ale," as Mick would put it. Hear Ken Daniels' voice crackle in pure, irreplicable joy as the Red Wings win on an overtime goal. These two are beauties, and we're lucky to indulge our ears with them every game.
New traditions will be made out on the ice with each passing game, as well as old traditions resurfacing on a nightly basis. Old traditions, like Dylan Larkin's rosy cheeks, indicate he is giving it his all on every shift. Or like Givani Smith's chipped tooth grin. Or like Mo Seider's thunderous reverse checks.
Moments like these reinforce our familiarity with each player, making rooting for them so easy night in and night out. Who knows what new traditions we are in for this year? With plenty of new additions to the team, intrigue awaits around every corner.
Thus far, intrigue has been rife surrounding this team after two games. The third line of what could easily be confused as Ents has dominated on many shifts. The tallest Red Wing in team history, Elmer Soderblom, scored his first career NHL goal on opening night, much to the delight of his parents who were in attendance.
How awesome is it to see Dylan Larkin's dad look so happy and celebrate with Elmer's parents too? The Detroit Red Wings' family is a tight one. Then the next night, three of the big offseason additions scored a goal in a 5-2 win against New Jersey. Seeing Yzerman's offseason vision coming to fruition, even if only for a couple of games, is thrilling as a fan of this team.
As in every other domain of life, not only are there highs, but there are lows as well. While the highs outweigh the lows, it is important to ground yourself with a complete picture of the state of the team. It was announced today that Tyler Bertuzzi is out for 4-6 weeks with an upper-body injury. This is a significant loss but possibly endurable without a huge decline in first-line production. Another low is a power play that has gone 0-7 in the first two games.
The seventh-worst unit from last year should still be improved by the end of the season; it's important not to overreact to small sample size. However, as great as the first two games were overall, there are areas for improvement. As fans, we owe it to ourselves not to get too carried away overall. But dang it, this past weekend was fantastic!
Make sure to invite some family or friends over to watch a game together occasionally this season. Hockey is meant to be enjoyed with others.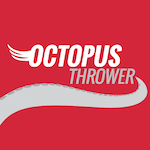 Want your voice heard? Join the Octopus Thrower team!
Grab a pizza and some bubbly drinks, and share in the wonderous excitement that is hockey. Memories are made at any given point and can occur over something seemingly small, such as the sounds of the board rattling with each passing check. It's a new season Hockeytown; let us revel and soak it all in.