Faceoffs have been an Achilles heel early on in the season for the Detroit Red Wings, and it needs to be fixed immediately.
Throughout the first four games, one thing has stood out regarding the Detroit Red Wings; more times than not, they begin their shift chasing. So far, Detroit is a mere 40.1% in the faceoff circle. That is simply atrocious.
To give you a comparison, the Red Wings won 49.4% of their draws last season. Dylan Larkin led Detroit in this category, winning 630 draws while losing 574, suitable for a rate of 52.3%. This season Larkin is operating at just a 48.8% clip.
Michael Rasmussen currently sits with a 44.7% win rate, while Andrew Copp is operating at an atrocious 32.4%, followed by a nearly invisible Joe Veleno at 23.8%. Yikes.
The Detroit Red Wings need to be more efficient in the faceoff circle.
While everyone on the roster can see some improvements in this area, everyone following Larkin drastically needs to improve in the faceoff dot.
Last season Michael Rasmussen won 50.1% of his draws, while Joe Veleno held his own at 48.3% of his attempts. Throughout his ten-year career, Andrew Copp has owned a 52% win rate in the circle but can't seem to figure it out yet during his first year with Detroit. In fairness to Copp, he missed a large chunk of training camp/preseason due to injury, so perhaps he's still shaking the cobwebs off. That also goes for his offensive production. Copp has yet to score a goal with Detroit but has recorded a pair of assists over the first four contests while averaging just over 18-minutes of ice time per game.
If their struggles continue, don't be surprised to see Pius Suter taking more faceoffs for the Detroit Red Wings. Suter won nearly 50% of his draws last season for Detroit, and in limited action this season; he's won 44.4% of his opportunities. That number won't jump out at you, but it is a vast improvement to Veleno's 23.8%.
It seems as though the Detroit Red Wings are hoping Veleno continues to excel as a center. Still, if he continues to struggle in the circle, Suter may earn more defensive zone opportunities and slide back to the wing following the draw.
Faceoff wins used to be a strength of Detroit, going back to Steve Yzerman, Sergei Fedorov, Pavel Datsyuk, and Henrik Zetterberg. In recent years, Larkin and Luke Glendening paced Detroit in the category.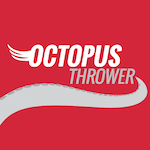 Want your voice heard? Join the Octopus Thrower team!
Glendening is winning an eye-popping 75.8% of his draws this season with Dallas. He's won 25 faceoffs losing just eight. Over his career, Glendening has maintained a stellar 55.5% of his draws.