We're still in October, and it feels like head coach Derek Lalonde is forced to field a Jeff Blashill-like lineup. Over the summer, Detroit Red Wings general manager Steve Yzerman made a conscious effort to not only add proven NHL players in free agency, but the sly Yzerman also injected a plethora of depth into Detroit's lineup.
During Detroit's training camp and preseason, the Red Wings saw a ton of roster battles, something we haven't seen in this town in quite some time. The added depth across the roster became evident quickly as Pius Suter and Filip Zadina began their season in the pressbox rather than on the ice. That is with forward Robby Fabbri unavailable to start the year as he continues to work his way back from a serious knee injury suffered last winter.
Shortly after the start of the season, the Detroit Red Wings lost first-line winger Tyler Bertuzzi for 4 to 6 weeks with an upper-body injury after blocking a shot from Ryan Graves. Following that, Detroit lost top-six forward Jakub Vrana to a personal situation.
The Detroit Red Wings' depth is being tested early in the 2022-23 season.
Filip Zadina and Pius Suter quickly became regulars in Detroit's lineup, replacing Bertuzzi and Vrana. Rather than call someone up and disrupt the Grand Rapids Griffins' chemistry to sit in the press box, Detroit used defenseman Jordan Oesterle to skate as an extra forward and defenceman in practice. Recently, Oesterle filled in for Dylan Larkin in practice when he received a maintenance day.
Then the injury bug continued to deplete Detroit's lineup when one-third of the 'redwoods' line, Oskar Sundqvist, was forced to miss Thursday's game in Detroit against the Devils and again on Saturday in Boston. Sundqvist had been playing through an upper-body injury but remains day-to-day. When you didn't think it could get worse, forward Michael Rasmussen was suspended two games by the league for careless use of his stick, clipping Boston forward David Krejci with a high stick. It was a questionable suspension, and it seemed the officials had gotten it correct on the ice.
Rasmussen was assessed a minor penalty on the play. In the same game, Red Wings forward Joe Veleno suffered a significant check to the head that somehow went undetected. Veleno required repairs on Detroit's bench following the late elbow to the head. The league did not suspend or fine Derek Forbort for the elbow. Both videos can be found here for your viewing pleasure.
Detroit elected to call up forward Matt Luff from Grand Rapids. Luff was plugged into Detroit's fourth line with Pius Suter and Filip Zadina. Luff is a big-bodied winger who recorded three goals and seven points in five games with the Griffins this season. Unfortunately, in Luff's second game with the Red Wings, he suffered a gruesome injury after taking a Matt Dumba shot to the face. Luff is expected to be ok; he's a hockey player.
For clarity purposes, Luff had been recalled following the injury news to Sundqvist. After the league handed down the questionable suspension to Rasmussen, the Red Wings called back to Grand Rapids and requested the services of Givani Smith.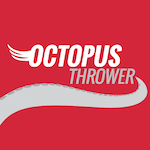 Want your voice heard? Join the Octopus Thrower team!
Plenty of Red Wings fans seemed to wonder why Smith over players like Jonatan Berggren or even Taro Hirose. It's evident that Detroit is just looking for a short-term solution for their fourth line and likely didn't want to disrupt the Griffins' top group. Luff has averaged under nine minutes of ice time over his first two games this season. Smith played just over nine minutes in his first game of the season.