The Detroit Red Wings will celebrate the 1997 Stanley Cup-winning team this Thursday against the Washington Capitals and will follow that by commemorating the 1998 cup-winning team Saturday afternoon when the franchise squares off with the New York Islanders. The Detroit Red Wings alumni players, coaches, front office members, and support staff expected to attend the weekend's festivities are listed here.
Those Red Wings teams of the 90s and 00s will always be considered the glory days. That era and those teams will go down in history as one of the best dynasties in sports history. Not only did Detroit become the pioneer of NHL drafting behind their scouting department that dominated the era by finding players like Sergei Fedorov, Nicklas Lidstrom, Tomas Holmstrom, Slava Kozlov, and Vladimir Konstantinov. General manager and Senior Vice President Jim Devellano wasn't afraid to take a chance on talent. He didn't know if all the players he selected would even make it to North America. The scouting department continued to dominate well into the 00s by finding Pavel Datsyuk in the sixth round and Henrik Zetterberg in round seven, who'd debut in back-to-back years.
The bulk of those cup rosters in 97 and 98 were homegrown players. Detroit was led by captain Steve Yzerman, who the organization drafted back in 1983. It seems far-fetched, but Yzerman needed head coach Scotty Bowman as much as Bowman needed Yzerman. Bowman turned Yzerman, a scoring machine and an offensive weapon, into a complete player. Instead of just focusing on offense, Bowman got Yzerman to become one of the top two-way centers in the game. Although his offensive numbers dipped, the team wins quickly increased. Detroit added Sergei Fedorov to be robin to Yzerman's batman. Fedorov promptly became one of the league's top forwards. Fedorov, like Yzerman, wasn't just an elite offensive weapon; he'd also become one of the NHL's top two-way dependable centers.
The Detroit Red Wings will celebrate the 25th Anniversary of the 1997 and 1998 Stanley Cup Championships.
Then you look at Detroit's backend, which was led by Konstantinov and Lidstrom. Some of the younger fans may forget Konstantinov had been Detroit's top defender through the mid-90s, often becoming a Norris Trophy finalist. Konstantinov was the perfect defender for the era; he had plenty of offensive upside, and there wasn't a more intimidating player in the league. Konstantinov was a physical force on the backend when the going got tough, and he'd punish forwards cruising through the neutral zone if a skater had their head down. Konstantinov, a right-handed shot, was often paired with fellow Russian Slava Fetisov but would be the perfect player to pair with left-handed Nick Lidstrom for the years to come; unfortunately didn't work out that way.
I know some of you will nitpick the title, but I can't help but wonder what could have been if the devastating limo accident didn't occur. Whenever someone mentions the 1997 or 1998 Stanley Cup teams, my mind is filled with joy, followed by the memories of the abundance of dark, sad days that would follow.
Along with the excess of homegrown talent, the Detroit Red Wings were able to assemble; the organization did a perfect job complimenting that group through trade and free agency to create the ideal championship combination over time. Detroit added Brendan Shanahan, Igor Larionov, Larry Murphy, Mike Vernon, Kris Draper, and Kirk Maltby to an already stellar core. For a general manager like Jim Devellano, it takes more than just brains to orchestrate the perfect cast of characters that will mesh in a championship way; playing for an ultra-demanding head coach; also takes a little luck.
Don't forget Detroit traded players like Ray Sheppard, a regular 30-plus goal scorer who hit 52 goals for the organization in 1993-94, in exchange for Igor Larionov. Detroit also acquired Kris Draper for a dollar from the Winnipeg Jets, the best single dollar the Detroit Red Wings ever spent. Just before opening night in 1996-97, the Red Wings traded Paul Coffey, Keith Primeau, and a first-round pick for Brendan Shanahan and Brian Glynn.
The rest is history.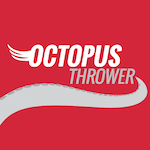 Want your voice heard? Join the Octopus Thrower team!
Remembering just how much of a powerhouse the Red Wings once was is a bit depressing when you look at the state of the current tea. Still, knowing Yzerman has come full circle and is in charge, one can only assume it is only a matter of time before Detroit becomes the dominating force it once was.