Ryan Reaves made no friends with the Detroit Red Wings or their fans following Wednesday night's game. The 35-year-old enforcer saw an opportunity and made sure to take it. The power forward belted Filip Hronek in the open ice with a skull-crushing hit and had a message for Hronek and the rest of the league. "Don't skate at me like that." Would you expect anything else from a player like Reaves?
Reaves did mention that he hoped Hronek was ok but didn't shy away from boasting.
"He just kind of turned his head and held onto the puck, so I'm not sure exactly what happened," Reaves said. "I hope he's OK, but you've got to know when I'm on the ice, definitely don't skate at me like that."
Fellow Minnesota Wild teammate Mason Shaw later mentioned that the hit from Reaves on Hronek had been the biggest, hardest hit he's ever seen in person while playing the game of hockey.
The hit sparked plenty of online banter between fans and professionals. The most common comparison continues to be Niklas Kronwall. None Detroit Red Wings fans continue to point to how Kronwall hit, times making contact with a player's head, yet he was so embraced and defended by Red Wings fans.
There is a difference, though.
The comparisons between former Detroit Red Wings defenseman Niklas Kronwall and Ryan Reaves are not warranted.
When Kronwall was indeed Kronwalling players, those checks were not always deemed illegal. But there were times Kronwall was disciplined. Oh, how quickly we forget. Kronwall was ejected from Game Four against the Chicago Blackhawks for his famous hit on Martin Havlat. Havlat was bustling for the puck in his feet when Kronwall skated in from the blue line, preparing to connect.
At the time, Detroit Red Wings head coach Mike Babcock was beside himself defending his star defenseman.
"To me, that was a finished check. It wasn't a head shot," Babcock said. "I don't think he should be hunting anyone's head, I don't think he should be elbowing anyone in the head. But I also think it's a physical game. It's a contact sport. The puck was coming around the wall; he saw it coming, he turned and chose not to play it with his stick. Kronwall stepped up on him. That's a hockey hit."

"So far from being gutless, it's not even funny," he said. "He did it right. He didn't leave his feet. The puck was right in between the guy's feet. No way."
Kronwall did not receive a suspension but missed the final two periods and overtime. For the record, Patrick Sharp would eventually score the winner that night.
Don't forget about Kronwall's hit on Nikita Kucherov, which also came in Game Six of the playoffs. It was a very similar hit to the one he hammered Havlat with. Kucherov was waiting for the puck on the wall, and Kronwall, rather than backing out of the zone, pinched in and caught Kucherov with his head down. Kronwall was not assessed a penalty on the hit but was suspended by the league for game 7.
So the people that are arguing and using Kronwall as their comparison can stop. Kronwall paid the price for 'similar' hits and served playoff suspensions, not regular season games in December.
My biggest issue with the non-call Wednesday night was what appeared like a Reaves lunge toward Hronek's head. In every sport these days, players' heads are being protected more than ever. Suppose you compare hockey briefly to football. Safties like Ronnie Lott or Brian Dawkins used to feast on defenseless receivers crossing the middle of the field. Now that same hit is a flag and subject to ejection. Hockey is also trying to remove hits that are initiated with a player's head and neck area.
The NHL needs to be more consistent when making its disciplinary decisions. Don't forget, earlier this year, Michael Rasmussen served a two-game suspension for careless use of his stick after accidentally high-sticking Boston Bruins forward David Krejci. Yet, Washington forward Evgeny Kuznetsov received a one-game suspension for his vicious, intentional slash on Vancouver's Kyle Burroughs. I understand a slash is different from a hit, hence why I used Kronwall as a comparison, but I am just proving that the NHL is very inconsistent when it comes to suspending players.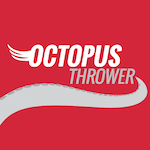 Want your voice heard? Join the Octopus Thrower team!
One final note. I will leave you with this. Do you actually believe that if Reaves laid the same hit on Connor McDavid or Sidney Crosby that he'd see no discipline?