Michael Rasmussen is finally becoming the player the Detroit Red Wings hoped he'd become when they drafted him with the ninth overall pick in the first round of the 2017 NHL Entry Level Draft.
Expectations are magnified for players drafted in the first round, precisely when a player is drafted in the top ten. That goes for any league, not just hockey, and in today's social media-driven world, athletes are often labeled a bust if they don't immediately make a positive impact. It's an unfair assessment, and fans tend to overreact. Fans don't just overreact negatively, although it appears that way more often than not, fans do overreact in a positive manner as well.
Before being selected by Detroit, Rasmussen enjoyed three stellar seasons with the Tri-City Americans of the Western Hockey League (WHL). Rasmussen totaled 157 points, including 81 goals over 160 games during those three years. The 6-foot-6 center excelled during his final year, with the Americans leading Tri-City to a playoff berth behind his 31-goal, 59-point season. During that playoff stretch, Rasmussen blossomed at the junior level, recording 16 goals and 33 points over 14 postseason games.
The Detroit Red Wings organization felt like they had seen enough after that incredible playoff performance. The feeling was that Rasmussen had developed as much as he could in junior and it was time to challenge him at the professional level. There was a catch, though. Rasmussen has a year left of junior eligibility, leaving a stint in Grand Rapids unavailable. If the Red Wings felt like Rasmussen didn't fit their current plans in Detroit during his nine-game tryout, he'd need to be sent back to junior and become unavailable at the NHL level for the remainder of the 2018-19 year.
As you would expect from a teenager, Rasmussen initially struggled to adapt at the NHL level as a rookie, but he did show flashes of the player the Detroit Red Wings hoped they had drafted. Rasmussen's rookie season totaled eight goals and 18 points over 62 games. Following that rookie season, Rasmussen spent time between Detroit, Grand Rapids, and Graz EC of the Austria hockey league. Last season was Rasmussen's first full season in Detroit since his rookie year, and his development and growth became very evident. Last season in 80 games, Rasmussen scored 15 goals totaling 27 points.
Michael Rasmussen is valuable beyond his point total for the Detroit Red Wings.
Rasmussen finished the 2021-22 season very strong and continued that play over the first third of this season. Some may balk at Rasmussen's four goals and ten points over the first 28 games of the season and just one goal over his last eight games, but those numbers don't tell the whole story. The 23-year-old center is playing solid, defensive-minded hockey and is someone head coach Derek Lalonde trusts as a top-checking center late in games as Detroit tried to protect a lead. Detroit does need Rasmussen to provide a bit more offense within the bottom six, and as the roster eventually gets healthier in the coming weeks, so should Rasmussen's offensive production.
The Red Wings have struggled during five-on-five play, primarily due to the plenitude of injuries this group has suffered over the first third of the season. Rasmussen has maintained a Corsi For Percentage of 47.4 during five-on-five play and a points/60 of 1.5. Both metrics are the best of his young career.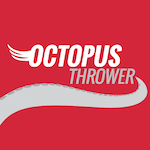 Want your voice heard? Join the Octopus Thrower team!
Although it may not appear on the surface, the big power forward has played very well this season.