The Detroit Red Wings have announced they have signed OHL centerman Amadeus Lombardi to a three-year entry-level contract.
Amadeus Lombardi was the Red Wings' fourth-round pick from the 2022 NHL Draft. He is just 19 years old and spent last season and this season so far in the OHL for the Flint Firebirds.
In 31 games this season, Lombardi has totaled 44 points, including 21 goals. He has 103 points in 98 games for the Firebirds.
Detroit Red Wings sign Amadeus Lombardi to an entry-level contract.
Lombardi is a small player, just 5 foot 11 inches tall and only weighing 165 lbs. But he is an excellent skater, and Red Wings amateur scouting director Kris Draper describes him as a "competitive player and hard worker."
Lombardi is the second player the Red Wings have signed from the 2022 draft class, the other being first-round pick Marco Kasper.
Grand Rapids Griffins coach Ben Simon said this about Amadeus Lombardi following this year's NHL Prospects Tournament.
Amadeus has a good little motor to him. He scoots around the ice pretty well. Sometimes a little bit too well. He takes himself out of plays. We've talked to him a little bit about that. He's pretty confident and composed with the puck. He's made some nice plays since he's been here."
The usual routine is to sit here after the team makes a move and say, "Yzerplan," and this move is almost no different. Lombardi is lighting it up in the OHL for one of the league's middle-of-the-road teams.
General Manager Steve Yzerman and the entire Red Wings front office have had a good eye for talent since arriving in Detroit, and Lombardi, on paper, might look like a steal in the fourth round.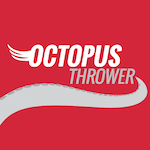 Want your voice heard? Join the Octopus Thrower team!
If Draper and Yzerman think a three-year entry-level contract is a good idea, I believe it is one, too, as the team is still another year away from being a playoff contender.