Head coach Derek Lalonde won't blame Detroit's tough December on injuries. Still, it was always going to be challenging to continue winning at the pace the Red Wings did to begin the year with the laundry list of key contributors missing from the lineup. The Detroit Red Wings are set to get Robby Fabbri and Jakub Vrana back over the next week or so.
Fabbri is currently practicing with the team and has been sidelined for the entire year, rehabbing a torn ACL suffered last season. The Red Wings forward is expected to be available sometime next week.
The Detroit Red Wings assigned Vrana to Grand Rapids on a conditioning stint on Tuesday. The immediate expectation is that Vrana will play three games with Detroit's AHL affiliate before rejoining the Red Wings. It's great to see Vrana back after dealing with a personal matter after entering the NHL player assistance program right after the start of the regular season.
During his short-stints with the Red Wings, Vrana proved that he could be an elite-level, high-volume scorer. That is precisely the type of offensive player the Red Wings have lacked over the past few seasons. Since joining the Red Wings from the Washington Capitals in a deal that sent Anthony Mantha packing, Vrana has netted 22 goals totaling 32 points over 39 games.
Fabbri had been really hitting his stride with Detroit last season before suffering the third torn knee of his hockey career. Fabbri, 26, has recorded 41 of his 73 career goals as a member of the Red Wings following a four-year stint with the St. Louis Blues. Last year Fabbri scored 17 goals totaling 30 points in 56 games. He posted a career-high 8.9 Relative Corsi For Percentage during even strength situations, to go with a 53.4% CF in all situations.
Reinforcements are coming for the Detroit Red Wings.
Detroit Red Wings forward Filip Zadina is also close to returning to the lineup. Like Fabbri, Zadina is skating with the team. Zadina blocked a shot in October, leaving him unavailable until the new year.
As the Red Wings get healthy, general manager Steve Yzerman and head coach Derek Lalonde will face a few difficult decisions.
Detroit currently has an open roster spot on their roster but will need to open up another one to activate Vrana and Fabbri. Detroit is carrying three goaltenders, which is not an ideal situation. A decision regarding who will serve as the primary backup goaltender between Alex Nedeljkovic and Magnus Hellberg needs to be made sooner than later. Although that determination will open a roster spot, Lalonde will still need to make a lineup decision.
Who is in, and who is out?
First things first, Elmer Soderblom, Jonatan Berggren, and Joe Veleno are all waiver-exempt. Following his injury, the Red Wings sent Soderblom down to Grand Rapids for conditioning and to work on rounding out his game. Soderblom was recalled nearly immediately as the Red Wings continued to be toppled by injury. Perhaps, Soderblom will be sent down to make room for Fabbri and Vrana?
Berggren and Veleno have proven they belong at the NHL level, making it challenging to send either down. Both are seeing limited ice time, so if the organization feels like playing 20-plus minutes per night will aid their overall development rather than 12 or so minutes in the NHL, that could be justifiable in the short term.
Berggren has recorded 10 points in 20 games this season with the Red Wings while averaging less than 12 minutes per night. Veleno is a fleet-footed center that's growing into a reliable fourth center, although he needs to improve on his faceoffs. He's a mere 36.6% in the dot, which won't play over the long haul at this level. Veleno has recorded five goals and 10 points over 32 games this season. Ironically, all three of these kids performed exceptionally well Wednesday evening in Pittsburgh.
Another option is to settle the goaltending situation and scratch a pair of forwards. The problem is that Detroit won't want to place their top prospects in the press box when they could play in Grand Rapids. If someone is getting scratched on a regular basis, it's going to be a proven NHLer. That means players like Pius Suter and Adam Erne will likely become spectators. Things will get even more interesting once Tyler Bertuzzi and Filip Zadina are ready to return.
More is better, but the Detroit Red Wings will undoubtedly have a few tough decisions to make in the coming days. Also, don't rule out a potential trade. Yzerman plays his cards close to the vest, and nothing is out of the question.
Things started off ugly for the Detroit Red Wings in Pittsburgh, but they'd find a way to rebound.
The Penguins jumped out to a commanding 4-0 lead in the first period on Wednesday night. Detroit somehow outshot the Pittsburgh 14-12 in the frame, but it certainly didn't feel that way. The Penguins chased Ville Husso, leaving Magnus Hellberg to begin the second period hoping he could weather the storm. Hellberg made an immediate impact by robbing Sidney Crosby on a breakaway that could have potentially put Detroit down 5-0.
Dylan Larkin would get the Detroit Red Wings on the board in the second period with his 13th goal of the season. It was a power-play tally, Filip Hronek and Lucas Raymond drew the assists.
The Red Wings would itch a bit closer late in the second period on a Joe Veleno goal. The goal was set up by defenseman Ben Chiarot who pressed in from the point, faked a shot, and skated around a sprawling Crosby before sending a nifty pass over to a waiting Veleno, who buried a shot from the slot.
Detroit would add a couple more goals in the third period, thanks to Jonatan Berggren and David Perron. The Red Wings climbed back from a 4-0 deficit to force overtime and assure themselves a point.
The Detroit Red Wings found a way to notch that second point of the night thanks to a game-winning overtime goal from Jake Walman. Walman called game and topped off the night with a tremendous celebration the kids call the griddy dance.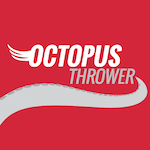 Want your voice heard? Join the Octopus Thrower team!
Moments before Walman scored, Andrew Copp rang the goal post allowing the Penguins an odd-man rush the other way. The Red Wings would come back the other way on a three-on-one, with the one being Crosby. Copp slid the puck past Crosby to a waiting Walman for the backhanded tap-in. Hellberg stopped all 19 shots he was faced with in relief of Husso. The four-goal deficit was the largest comeback victory for the organization since 1984.