With former Vancouver Canucks captain Bo Horvat headed to Long Island to join New York, the Boston Bruins are expected to shift their focus to another captain, this time Detroit Red Wings center Dylan Larkin.
The Red Wings captain has really polished his game over the past couple of seasons, and at the perfect time. Larkin, 26, is set to become an unrestricted free agent at the end of this season for the first time in his career. Detroit's captain has recorded 15 goals and 43 points over 47 games this season. This production follows a 31-goal, 69-point campaign last year.
It's been reported several times that Red Wings general manager Steve Yzerman and Larkin are roughly one-million apart in negotiations. Yzerman is hoping to extend the Waterford, Michigan native to an eight-year deal that averages $8 million per season. Meanwhile, Larkin's camp, led by agent Pat Brisson is eying an eight-year deal averaging around $9 million.
Larkin is the Detroit Red Wings' lone representative at the NHL All-Star game, which takes place this weekend. This past Thursday, during a media scrum, when the questions surrounding his future in Detroit and contract talks came up, Larkin continued to state that he sees himself being a Red Wing but admitted there is work (negotiations) that needs to be done.
"I've said it all along, and I stand by it: I really see myself as a Red Wing. [But] there's contract negotiating to be done," said the Detroit center, who was named to the Atlantic Division team for this weekend's NHL All-Star Game. "This is my first time in this position as an unrestricted free agent. But I doubt contracts really ever go smoothly until they're done."

"I wouldn't say that, like, the [contract news] that's been made public is really the most truthful," Larkin said. "It just seems people are fishing and speculating. I don't really want my business out there. I understand we're in the spotlight and fans want to know. They deserve to know. But I think it's not really the most truthful, you know? It's just speculation, and I don't really read into that too much."
The Boston Bruins are expected to check in on Dylan Larkin should the Detroit Red Wings make him available.
Being interested in Dylan Larkin makes sense for the Boston Bruins, who will have a glaring need down the middle of their lineup sooner than later. Captain Patrice Bergeron is 37 years old, and David Krejci, 36, returned to Boston this season after playing last season in the Czech professional league.
According to Jimmy Murphy of Boston Hockey Now, the Bruins attempted to trade for Larkin last season.
"I'll tell you this, we tried to trade for him last year and it's because he's a gamer," the source said. "He would blend right in with Bergeron, and Marchand for now but he's still only 26 and has plenty of game left in him. I think he's a Don Sweeney type player too. The two questions obviously are: will he waive the no-trade and will he give them a chance to extend?"
The problem for Boston remains: Will Yzerman make Larkin available ahead of the trade deadline?
Yzerman is impossible to predict; he's always held his cards close to the vest and isn't afraid to make a move that will be criticized. There were plenty of reports that the Detroit Red Wings checked in on the Bo Horvat sweepstakes before the pending free agent was moved to New York.
The feeling is Yzerman is looking to add a top center to pair with captain Dylan Larkin for the future, and as you know, if you've followed the Red Wings over the past few years, top centers don't grow on trees. The Detroit Red Wings haven't been able to replace the top combination of Pavel Datsyuk and Henrik Zetterberg, so moving Larkin seems like a step backward rather than extending him and finding someone to pair him with for the long haul.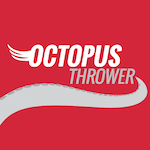 Want your voice heard? Join the Octopus Thrower team!
During his time with the Tampa Bay Lightning, Yzerman and Steven Stamkos didn't strike a deal on a contract extension until moments before the captain could have hit free agency. Yzerman won't scurry to move Larkin and has proven to be very comfortable extending contract talks well into the summer. Now, if Boston were to offer something extravagant, something Yzerman couldn't say no to, I wouldn't put it past him to strike a deal; I don't expect it will happen.