If you were to ask Andrew Copp, he would likely be the first to admit that he started slow upon joining his hometown, Detroit Red Wings. Things didn't go well for the veteran center from the get-go with Detroit. Copp, 29, started the season battling an injury in addition to returning from an off-season surgery.
That being said, Copp still proved to be one of the more essential forwards on the team despite his inability to score on a consistent basis. Copp finished last season with a career-low nine goals but a career-high 33 assists, and despite playing through injuries to begin the year, he ended up playing in all 82 games for the Detroit Red Wings. He averaged just over 18 minutes per night and played a lot of demanding minutes, often drawing the most challenging assignment each night, which allowed head coach Derek Lalonde to free up captain Dylan Larkin for a mismatch.
General manager Steve Yzerman is one of the more unpredictable managers in sports, but there are a couple of trends that are hard to dispute. Yzerman loves two-way forwards, especially down the middle at center. He also loves big, shot-blocking defensemen and big, space-eating goaltenders. Copp is the definition of a two-way center. He's used in all facets of the game. He's a 200-foot player who is often utilized on the penalty kill. Last season, Copp's faceoff percentage dipped a touch below 50%, but throughout his career, he's maintained a 51.3% success rate in the dot. He can also be used on the second power-play unit as a playmaking catalyst in the bumper position or working on the wall or behind the net.
The Detroit Red Wings need Andrew Copp to start fast this season.
Following the regular season, Copp reflected on his first season in Detroit and identified a few areas he will look to improve on in year two.
"At the beginning of the season, I don't think I was playing my best," Copp said. "I think I got very pass happy — kind of related to the injury, not really being able to drive and skate with the puck as well as I would have liked."

"I think that my defensive game has always been there; penalty kill, I feel like that's been really consistent throughout my whole career," Copp said. "I think I took some offensive strides over the last few years. Didn't score as many goals this year as I would have liked, but produced pretty well five-on-five and had a career year assist-wise."
He also mentioned that he is out to prove he is a top-six player. Copp also brings some versatility to the lineup. Of course, he can play his natural center position but is comfortable playing on the wing if need be. As it stands, Copp is expected to be slated in behind Larkin, anchoring the second line, but with the off-season addition of J.T. Compher, Detroit will have options. Compher. It's a Michigan reunion in Detroit, folks. The projected top three centers on Detroit entering the 2023-24 season all played together with the Michigan Wolverines. Compher, like Larkin and Copp, is also a reliable two-way center. Compher will take some of the pressure off Larkin, and more so Copp this season by drawing the toughest assignments from time to time, which will allow Copp, in particular, to focus more on his offense.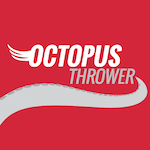 Want your voice heard? Join the Octopus Thrower team!
Last year, Copp produced a shooting percentage of just 7.5%, also the lowest of his career. Hopefully, Copp can return to being a 15-goal player, but we need to realize that his 42-point total from last season had been the second-best of his career. Copp recorded career bests between the Jets and Rangers the year prior, scoring 21 goals and scoring 53 points.