The Detroit Red Wings appear to be enjoying their home away from home in Traverse City as training camp is underway. As the players acclimate with their new teammates/linemates, attempt to shake off the rust from the off-season, and build up their endurance ahead of the preseason; one common sentiment stood out. Playoffs.
If you recall, Detroit Red Wings general manager Steve Yzerman recently mentioned that it's not 'playoffs or bust' speaking about this upcoming season for the organization. Yzerman continues to play the long game with this organization and is more focused on building a sustainable team rather than a unit that becomes more of a flash in the pan or one-and-done. And I am referring to one-and-done as in making the postseason once and then failing to reach the playoffs for another lengthy period of time. Yzerman isn't bulletproof; he's made mistakes like every general manager, but his rich history of being a successful manager should have every Red Wings fan enthusiastic about what is possibly in store for Detroit over the next few years.
Detroit Red Wings captain Dylan Larkin welcomes added competition.
Detroit Red Wings captain Dylan Larkin mentioned that although Yzerman and head coach Derek Lalonde are reluctant to put overall expectations on their season, the players have the playoffs on their minds.
"Going into this season, I know Steve and Newsy have not really set an expectation," Larkin said. "The guys in the room, we talked about it last year — we want more. There's a good attitude. There's guys that have come in that have been on teams that have been locks for the playoffs. There's veteran players, guys going into contract years. I like the dynamic of everyone on our team and we're going to rely on each other to keep pushing and get off to a great start and remain consistent."
Larkin mentioned that the added competition is a welcomed sight.
"I think it's great to have that competition," Larkin said. "You saw it last year with DP coming in and he's an offensive guy. And now Alex and J.T., Daniel Sprong is another guy that had a really good year last year. So it's just going to keep pushing us. We need to score more goals and we know that and we have a group that I believe can do it."
Larkin, 27, has only reached the postseason once in his professional career. That came as a 19-year-old rookie back in 2015-16. Larkin recorded one goal in five playoff games. So, going through Detroit's dark, dreary rebuild from the beginning, there likely isn't anyone who wants to get this organization back on track and into the postseason more.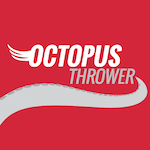 Want your voice heard? Join the Octopus Thrower team!
Just when it felt Yzerman was content with having an influx of youth rounding out Detroit's roster, he added a bunch of proven assets this summer. Yzerman added a ton of players with experience that will not only improve Detroit's lineup from head-to-toe but also a group that will push each other to be better.