The Detroit Red Wings missed forward Michael Rasmussen last year following his season-ending injury. In late February, the 6-foot-6 power forward took a slap shot off the knee, forcing him out of action until this summer. If you recall, the injury occurred as the team found themselves amid a playoff race.
Rasmussen was unavailable as Detroit headed to Ottawa for back-to-back games leading up to the NHL trade deadline and was straight-up abused by the Senators. Ottawa bullied the Red Wings physically in those two games without Rasmussen in the lineup, which undoubtedly played a role in general manager Steve Yzerman's off-season plans.
The Detroit Red Wings went out and made sure they got bigger and tougher this summer, adding players like Klim Kostin, Christian Fischer, J.T. Compher, Jeff Petry, and Justin Holl. Detroit didn't add a bunch of fighters; they added size and players that are difficult to play against. Compher, for example, wouldn't necessarily be considered a 'tough' guy. Still, I added him to that group because he is a valuable two-way center who can chip in offensively and be a menace to play against. Yzerman added many highly skilled players like Alex DeBrincat, Shayne Gostisbehere, and Daniel Sprong.
2023-24 is a big year for Detroit Red Wings forward Michael Rasmussen.
Rasmussen, 24, is heading into his fifth NHL season, and the Detroit Red Wings are certainly expecting big things. Last season, he totaled ten goals and 29 points over 56 games and skated to a plus-2 rating. His point total was a new personal best, along with his 15-plus minutes on ice. He totaled 15 goals and 27 points over 80 games the year prior but was a minus-25 player.
Recently, Rasmussen talked about how difficult it was for him to get injured last year when he did.
"Really disappointing, a big letdown, a big learning curve," Rasmussen said. "You just try to be able to handle it, but at the same time put on a good face for guys in the room and be around as much as I can. You try to be positive for the group."
Midway through last season, Detroit Red Wings head coach Derek Lalonde shifted Rasmussen from center to the wing, where he began to excel. Playing down the middle comes with a ton of defensive responsibilities. Being moved to the wing allowed Rasmussen to get in on the forecheck and establish more of a net-front presence; both areas help utilize his 6-foot-6 frame. Also, he became a force while working the walls, often winning the 50/50 puck battles.
Rasmussen quickly built up a lot of chemistry playing on Detroit's second line, flanking Andrew Copp and opposite veteran winger David Perron.
"It's pretty easy (to play with the two veterans)," Rasmussen said. "Two guys like that, good players, easy to play with. It was nice to be back out there with them. Just their hockey minds, they know the game so well and know the spots to be and know our systems so well. It's easy for me to know where they are going to be, whether it's the defensive or offensive zone. They move the puck, good wall play, all that kind of stuff."
Following a productive off-season rehabbing and building up his strength, it's not out of the question to see Rasmussen breakout for the Red Wings. As previously mentioned, Detroit added a lot of scoring depth, which will only help boost the offensive productivity of the returning middle-six wingers.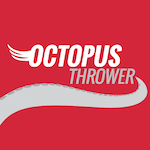 Want your voice heard? Join the Octopus Thrower team!
Rasmussen spent the summer focusing on his skating, speed, quickness, and trying to get stronger on the puck. I don't think it would be a reach to say there is 20-goal, 40-point potential with Rasmussen this upcoming season.