It must be somewhat of a frustrating year for goaltender Alex Lyon, who has been waiting in the wings all season, having yet to appear in a game for the Detroit Red Wings, but his time may finally come.
The Detroit Red Wings are currently in Sweden as a part of the NHL's Global Series in Stockholm. Starting goaltender Ville Husso remained in Detroit to be present for the birth of his child, Emmi Marie. Congratulations to the Husso family. That leaves James Reimer and Alex Lyon to board up the cage against the Ottawa Senators on Thursday and the Toronto Maple Leafs on Friday.
On Wednesday, Detroit Red Wings head coach Derek Lalonde mentioned that it would be Reimer in goal on Thursday and likely Lyon on Friday, but also mentioned that he wouldn't rule out rolling with Reimer on back-to-back days with how well he's performed for the Red Wings to date this season. Reimer, 35, has boasted an incredible 1.80 goals-against average and a .933 save percentage through his first five starts. He's easily outplayed Husso, who has made ten starts this season and has posted a 3.61 goals against average and a .885 save percentage.
Reimer's sturdy play has also played a role in Lyon's inability to garner a start, but when opportunity comes knocking, you must be ready. Like Reimer, if Lyon plays at an elite level, he can force the Detroit Red Wings to continue to play him.
Alex Lyon might finally make his Red Wings debut.
Detroit Red Wings general manager Steve Yzerman signed Reimer and Lyon this off-season to bolster their depth behind Husso, who struggled down the stretch last season and has been in a slump to begin this year. Last season, the Red Wings didn't have anyone they felt comfortable leaning on in goal when Husso's play deteriorated; this year, Reimer has come in and played exceptionally well, but how long can the 35-year-old shoulder the load? He seems comfortable being a backup who plays 35 or 40% of the time; if the Red Wings were to lean on Reimer more, playing him like an NHL starter, I imagine his statistics would undoubtedly decline. That's where Lyon can help.
"For me, it's always just a matter of trying to climb the ladder and that's really what it is about. I want as much NHL time as I can get. I want to continue to prove myself at this level. In terms of the situation, I am just going to enjoy Sweden."

"The bubble year was a lot like this for me," Lyon said. "I spent all year on the taxi squad. Playing in the American league is vastly different from the NHL, it took me a long time to learn that. I don't want to get too far ahead of myself. I just have to focus on the right things, work hard, try the best you can, and it's really the only things you can control. That's what I focus on."
Alex Lyon performed extremely well late last season for the Florida Panthers down the stretch and had been the main reason they qualified for the postseason on the final day of the regular season, that and Pittsburgh's loss to the helpless Chicago Blackhawks. Lyon started the playoffs as the Panthers' starting netminder before giving way to Sergei Bobrovsky. Bobrovsky, a two-time Vezina Trophy winner who had fallen out of favor in recent years, refined his game and went on an absolute heater, leading the Panthers to the Stanley Cup Finals, where they'd lose to Vegas.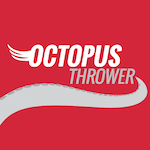 Want your voice heard? Join the Octopus Thrower team!
Lyon's last appearance was in early October against the Maple Leafs in the preseason. Earlier this month, there had been some murmurs that the Red Wings were entertaining the idea of sending Lyon to Grand Rapids on a conditioning stint, but that didn't happen. Last season, Lyon made 14 starts for the Panthers, going 9-4-2 with a 2.89 goals-against average and a .912 save percentage. The soon-to-be 31-year-old has made just 39 NHL appearances in his career, posting a .903 save percentage and a 3.05 goals-against average.