I need to admit this right off the get-go, I was critical of the long-term deal Steve Yzerman and the Detroit Red Wings awarded to defenseman Justin Holl. I wasn't a fan of the free agent signing or the term. To me, this smelt like another Ben Chiarot-like addition.
Yzerman signed Holl to a three-year deal worth $10.2 million. The off-season before it was Chiarot landing a four-year deal worth $19 million. This felt like one of those 'fool me once, shame on you, fool me twice…' type of signings. And I am 0-2 on these to date, if you are keeping track. I was thrilled with the Chiarot deal last summer, and he thanked me for my vote of confidence by laying an egg during his first season with the organization. I am not dramatic; I try not to overreact, good or bad.
I prefer to let things marinate some, so it took me a lot longer than most to be disappointed with Chiarot last season. I am surprised, yet hopeful, by how Chiarot has performed for the Detroit Red Wings this season. He's not nor was ever going to be the second coming of Nicklas Lidstrom. I hoped he could be a Brad Stuart-like fourth defenseman for Detroit. As of Tuesday, Chiarot has totaled one goal and two points, averaging over 19 minutes of work per night. He's also maintained a plus-6 rating through the team's first six games.
Justin Holl has played exceptionally well for the Detroit Red Wings to begin the season.
Holl, 31, often Chiarot's defense partner, fell out of favor with the Toronto Maple Leafs and their fanbase during the postseason this past season. This led to the cap-stricken Leafs looking elsewhere, allowing the veteran defenseman to walk in free agency. The Minnesota native lands in Detroit on a noteworthy contract and has been a pleasant surprise early on for the Red Wings.
Following last season, the ongoing sediment surrounding the Detroit Red Wings wanted to add size in the off-season. That notion was not only described by Yzerman but also by head coach Derek Lalonde and Dylan Larkin. The trio also continued to mention that the team wanted to be tougher to play against this coming season. Well, mission accomplished on both facets. Heading into Thursday's contest with the Seattle Kraken, the Detroit Red Wings lost their season opener to the New Jersey Devils and then ripped off five straight victories. They currently lead the league in scoring and have the second-best power play percentage. They've got a lot bigger and are challenging to play against.
The addition of Holl has been a big part of Detroit's added size, and his added physicality on the backend is also a welcomed sight. Holl currently leads the NHL with a plus-9 rating, a stat that doesn't hold the same weight as it once did, but it's still impressive.
Before Tuesday's tilt with the Kraken, Holl, in five games, had been on the ice for ten goals for and only one against. His expected goals-for percentage of 56.47 ranks fifth on the team, aside from the trio of fourth-line forwards, second only to Lucas Raymond. Holl is playing under 17 minutes per game for the Red Wings, about three minutes less than his career average, and the lighter workload has been beneficial to his overall impact.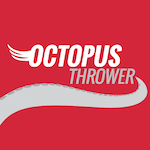 Want your voice heard? Join the Octopus Thrower team!
Holl is coming off a three-assist game against the Flames; it was the second time he's done that; the other had been as a member of the Toronto Maple Leafs, ironically against the Detroit Red Wings.